Events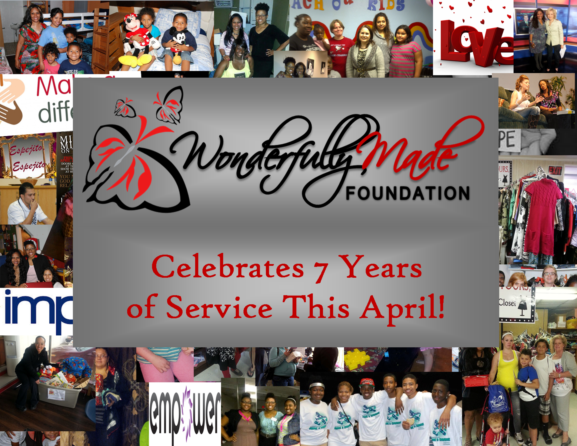 Wonderfully Made Foundation celebrates 7 Years of Service April 7th!!!! In honor of this 7th year, we are celebrating all April long!!!!! Join us at one, a few, or all of the amazing events below.
Beginning April 1st and going all April long:
Help us raise much needed funds by pledging to make a monthly donation for 6 months and inviting your friends to do the same! Our goal is to get 100 individuals to donate $27 each month and 50 businesses/organizations to donate $57 each month. WE CAN DO IT!! Won't you help? These monthly pledge will begin in May and end in October.
Every dollar donated will go toward
*Housing our 20 homeless mothers and children (i.e. utilities, maintenance, transportation, home supplies, etc.)
*Providing training and educational support for our Pathway to Success Job Training and Life Skills/Enrichment Class participants
Help us break the cycle of homelessness! Take the pledge today!
Download and complete the pledge form and send it to 5207 Beverly Dr. Okc, OK 73105 OR scan and email it This email address is being protected from spambots. You need JavaScript enabled to view it.
Please Click here to DONATE     |    Donation Pledge Form
April 3rd TIME TBA - Our Executive Assistant is being promoted to Development and Housing Coordinator! Join us as we celebrate her promotion and the expansion of the organization! Location and Time will be announced soon
April 5th 10am-6pm
Drop by our table at Women of Color Expo Luncheon taking place at Metro Tech Springlake 1900 Springlake Drive OKC, OK 73111
April 7th 11am-2pm
Swing by our office anytime between 11am and 2pm to enjoy a cake and punch celebration with us in honor of our founding date April 7, 2007 and learn about all the amazing things happening at WMF!
April 12th 12pm-4pm
Stop by our table at Swap Therapy: a opportunity to swap, shop, network and learn trendy fashion and styling tips from Oklahoma City's finest taking place at Allegiance Credit Union 4235 N. Meridian Ave OKC, OK 73112
April 18th 4pm-7pm
Bring your little one by the WMF Office to make their own Easter/Spring craft and receive a treat!
DATE AND TIME TBA
Join Wonderfully Made for the launch of our first children's book "I Am Special. I Am Unique. I Am Wonderfully Made1" Written by WMF Founder/Executive Director Lisa Miller-Baldwin. Date, time, and location TBA
.......................................................................................................................................