Testimonials
"In the beginning of October [2010], I found myself in need of assistance and compassion. I had come to the realization that my marriage had become emotionally abusive e and very painful. Through the help of the PACT organization I was directed to Lisa Baldwin and Wonderfully Made Foundation.
When I met Lisa, she radiated warmth. As I began to tell her about my situation, she immediately understood. Her own journey toward well-being has given her the ability to empathize with other people who are experiencing challenge and hardship. I had the feeling that I didn't need to say very much, as she could almost see and feel my pain. She understood when I said I felt unsafe to stay in my family home. I can't stress the importance of this understanding enough. At the time, I felt very confused and fragile with very low self-esteem. To have my feelings taken seriously and validated was so valuable to me.
Wonderfully Made Foundation gave me money to stay in a hotel for two nights, gas, and food. This gave me an opportunity to get my head on straight and make arrangements for a more permanent place to live.
With the help of Wonderfully Made Foundation, I was able to empower myself in my marriage and my relationship. Had I found no tangible support and validation in my experiences, I may have let the abuse in my marriage continue.
Happily this story has a joyful twist. This experience served as a wake-up call for both my husband and myself. My husband has finally agreed to participate in marriage counseling. We attended our first appointment last Friday. We are both aware that we need help in healing the patterns that have led us to be in an abusive relationship. This way, whether our marriages lasts of not, we both get to heal old emotional wounds.
I have returned to my family home, but I am still following the plans for my own security that I made during the week my husband and I were separated. I am thankful for the compassion and support I found when I met Lisa and for the assistance I received from Wonderfully Made Foundation, this has helped me change the direction of my life and my marriage."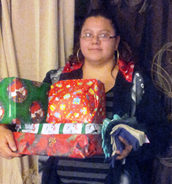 "I want to thank the Wonderfully Made Foundation for helping me in my time of need. The foundation helped me with toiletries, clothes, and Christmas presents for my children. Thanks to you guys my children will now be able have a great Christmas. When I called you guys I had no job therefor I had no way if buying presents fir my children, or toilet tissue, shampoo, and clothes. Since I first called the Wonderfully Made Foundation I was able to get back on my feet. I found a job and now I am able to provide for my children. Again I want to thank the Wonderfully Made Foundation. They a big help to our community and the ladies are so nice and helpful. Thank you so much Wonderfully Made Foundation."
Melissa Paredes
"I greatly appriciate everything that Wonderfully Made Foundation does for all the folks in need! :) I was in a very bad place and pretty much kicked to the streets in OKC when WMF gave me a home and gave me the support I needed during my time of need. :) I will never forget WMF and the kind-hearted folk who helped me get my life together. :) I currently live down in San Antonio, Texas but if I ever find myself in Oklahoma City again, I hope to visit WMF and see the awesome progress that is going on there! :)"
Cassandra Troxel
"The Organization goes out of their way providing much needed items we wouldn't have any other way"
Susan Doughtery Dec. 2013 (Clothing Closet )

"My pregnancy was very high risk. I had to quit both my jobs and it's hard to provide for my daughter and son who is on the way. The items I got helped me out and now stress has been lifted off me because I can come to them for help."
Veronica Richmond Dec. 2013 (Clothing Closet)
"I am the pastor of the Church of The Living God #355, and I am contacting you just to say thank you.  The reason I am saying that is because a few weeks ago I got a call form one of my member's sister saying that she had just recently moved here to Oklahoma from Mississippi.
Her original plan was to stay with her sister, but unfortunately that didn't work out. So sher found herself 8 months pregnant, hungry, and sleeping on a floor at someone's house in Edmond that she didn't know. She just so happened to find one of my business cars and gave me a call, asking me if I could bring her some food. Without even thinking about it I called another one of my members that had been homeless at one time, but through the Grace of God is doing very well!
She instructed me to call your organization and ask for Mrs. Lisa! So that's what I did! After speaking with Mrs. Lisa, she told me to bring the young lady to the WMF office. After I bought her something to eat, that is exactly what I did! I'm taking this time to thank you because you not only found her a place to stay, but you put her in an environment with similar women that were so loving and caring!
I was so impressed with what Mrs. Lisa and the staff had done for this young lady that I will be contributing financially to your foundation. I also want you and you staff to know that you are making a difference woman by woman, child by child, and step by step!"
Thanks again,
Elder Elmer Gabriel Jr., Pastor 
June. 2014